Regular Guided Tours Programme
Guided tours on a wide variety of themes and 'highlight' topics with a particular focus take place on an almost daily basis. Those persons in our museums, who are responsible for the exhibitions and works of art in their respective collections – namely the curators and restorers – regularly hold presentations of the objects and explain their significance in the series entitled "First Hand Accounts" ("Aus erster Hand").
Every Friday around um 12.30 pm, the series entitled "30 Minutes –One Work" deals with a specific object. Guided tours on special themes and 'highlight tours' conducted by a number of art educators appointed by us are held to stimulate you sharing with others observations on works of art and discussing them together. The themes of the guided tours are to be found up-to-date on the calendar. As a rule, the tours take place at the following times:
WED 3 pm · THURS 6.30 pm · FRI 12.30 pm · SAT 3 pm · SUN 3 pm
The guided tours are included in the admission charge unless otherwise indicated.
Pi.loten –Young people provide information on selected works
On the last Sunday of each month, young art experts known as the 'Pi.loten' are on-site to explain to visitors their favourite exhibits in the museum's collection. In a one-week special seminar led by professionals from the disciplines of art, design and art history, young people get to know about the backgrounds to and links between the artworks and design objects on display – and to be trained in their chosen field of interest.
This initiative is made possible through the support of the foundation 'Stiftung Pinakothek der Moderne'.
24th February · 31st March from 11.30 am to 1 pm, included in the admission charge.
The Eternal is the Here and Now
On the first Saturday of each month an encounter between art history and theology takes place front of a selected artwork in the Pinakothek der Moderne.
And from this encounter a creative dialogue develops, in which the audience is included. Prior to this, a half-hour musical interpretation on the subject in question is held in the neighbouring St. Mark's Church.
For special admission to the Pinakothek, please ask at the ticket office.
Yes, we're open! –Art-Work-Room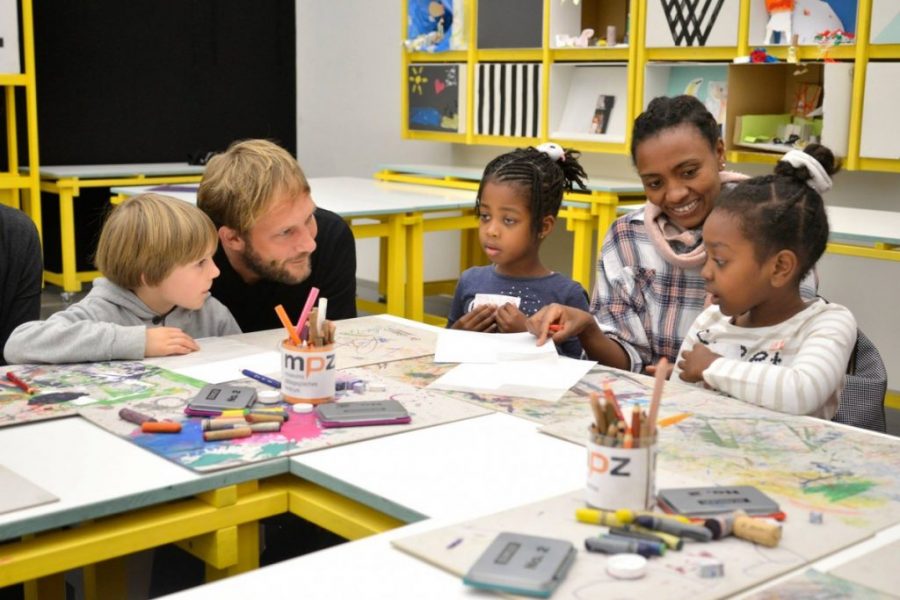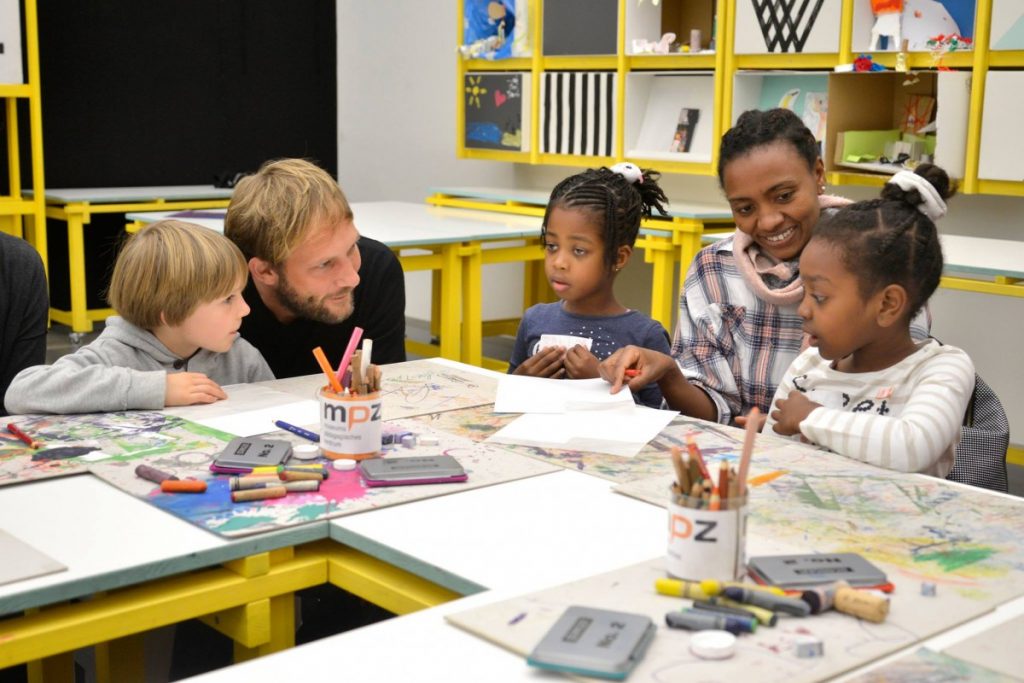 Every Friday, around 3 pm, our inter-cultural programme provides you with the opportunity to encounter people from a range of different backgrounds, languages and experience. Following a playful getting-to-know-you session, we are then ready to be inspired by the works from the four collections in turn. And, afterwards, we try out for ourselves a variety of artistic techniques.
ART is the starting point for creating a joint WORK and so opening up ROOM to enjoy an inter-cultural exchange of ideas. Participation and admission are free of charge!
This is made possible through funding from the foundation BNP Paribas Stiftung and with the kind support of PIN. Friends of the Pinakothek der Moderne e.V.
Fridays 3 pm to 5.30 pm · Registration: kunstwerkraum@mpz.bayern.de
Yes, we're open! – Open Workshop
On every first Saturday of the month our workshop is open to all those interested – and free of charge. Regardless of background, language or age – always at the forefront of our activities is the experience of working together creatively in a relaxed atmosphere. Changing themes and techniques – such as small discovery tours into the realms of art, design, architecture and works on paper are there to inspire us.
For families with children above the age of 7, youth, both young and mature adults, and senior citizens.
This initiative is made possible through funding from the foundation BNP Paribas Stiftung and with the kind support of the PIN. Friends of the Pinakothek der Moderne e.V.
Every first Saturday of the month · 2 pm to 5 pm · No registration required.
Participation free.